Quality Gear - Kodiak Bruin 9500 Winch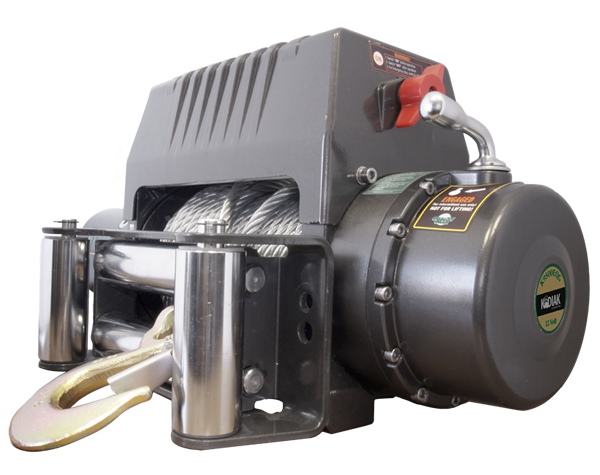 The Kodiak Bruin (K9500EQG) is a great electric winch for mid size off-road vehicles, jeeps in paticular. The Bruin 9500 is just what any outdoor enthusiast needs for getting out of a muddy situation.
It has an easy-to-use remote with a 15 foot cable, a galvanized cable hook, colour coded power cables, a 100 foot winch line, and comes with the "Bear Essentials Kit". The Bruin 9500 has a maximum line pull of 9500lbs and is more than capable of getting your mid sized off-road vehicle out of the mud and back on the trail.
Specifications
The Bruin Comes With:
Rated Line Pull:
9500lbs (4309kg) Max

Handheld Remote with 15 Foot Cable
Galvanized Cable Hook
Colour Coded Power Cables

Gear Train System:
Planetary Gear
Reduction Ratio:
212:1
Motor:
4.8 Hp (3.58kW) 12V
Cable:
3/8" x 100' (9.53mm x 30.48m)
Overall Dimensions:
22.8" x 6.6" x 10"
(579mm x 168mm x 254mm)
Bolt Pattern:
10" x 4.5" (254mm x 114.3mm)
Shipping Weight:
123lbs (55.8kg)


Parts listed are not necessarily manufactured by the original equipment manufacturer and any reference to the trademarks or part numbers of others are for cross reference informational purposes only.