Quality Gear - Dana 70 Differential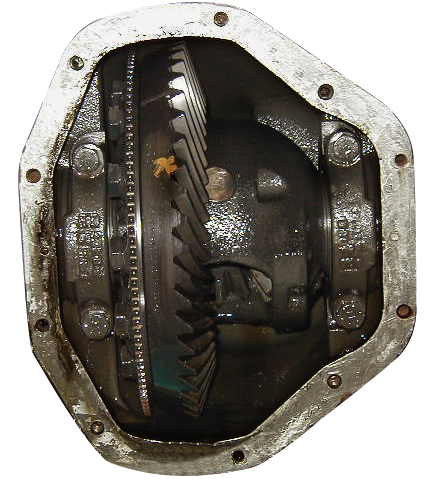 The Dana/Spicer Model 70 is an automotive axle used in OEM heavy duty applications by Chevrolet, Dodge, and Ford. It can be identified by its straight axle tubes, 10 bolt asymmetrical cover, and a "70" cast in to the housing and is visually similar to the Dana 60.
The majority of the Dana 70's are rear axles, however Dana 70 front axles do exist. The Dana 70 is generally regarded to have more strength than a Dana 60 but not as much as a Dana 80. Gross axle weight ratings are often lowered by the vehicle manufacturer for safety and tire reasons.
Dana Differential parts available include:
Axle Shafts, Cases, Limited Slips, Lockers, Nest Kits, Rebuild Kits, Rings & Pinions
Dana 70 Specs

Ring gear measures 10.5"
3.5" diameter axle tube
Inner axle shaft spline counts are 23, 32, and 35
Pinion shaft diameter: 1.75"
Pinion shaft splines: 10 and 29
Gear ratios: 3.07:1 - 7.17:1
Axle Shaft diameter

1.41" Front (35 Spline)
1.50" Rear (35 Spline)

Axle spline diameter

1.50" Front (35 Spline)
1.50" Rear (35 Spline)

1480 Universal Joint (Front axle)
Other Information:

Front Axle

Dana 70 front axles are uncommon, due to attributes that the Dana 60 front axle can match. The main advantage a Dana 70 front axle has over a Dana 60 front axle is better gross axle weight ratings.

Rear Axle

There are three pinion offsets for the Dana 70 rear axle. 1/2 inch, 5/8 inch and 31/32 inch offset. The first Dana 70 axles had a 1/2 pinion offset and were found in Dana 70HD's as well. The drawback with the 1/2 inch offset was that a 4.10:1 gear ratio was the highest gear set possible. In the 1970 the 1/2 inch offset was phased out for a 5/8 inch offset that allowed for higher gearing.

The 5/8 offset was used in all the major variations of the Dana 70 and is still being used today. A 31/32 inch offset was used for a short time in the late 1980s and early 1990s to allow even higher gears than the 5/8 offset could offer. Only the Dana 70U and Dana 70HD used the 31/32 inch offset.

There were many different models of the Dana 70 and was uncommonly used due to the similarity of the Dana 60. Different Models include: Dana 70, 70U, 70HD and 70B

All Dana 70 rear axles are full floating and typically have a gross axle rating of 7500 lbs. The Dana 70 rear axle was first used in the Dodge W300 in 1958. The Dana 70 started out using 10 spline pinions and 23 spline axle shafts. The later, more current, Dana 70 axles use 29 spline pinions and 32 or 35 spline axle shafts. Dana offered two different limited slip differentials with the Dana 70, the "Power-Lok" and the "Trac-Lok."
Compatible with Models

Front Axle


Dodge
1958- mid 1970's W300




GM
Chevrolet Kodiaks
GMC Topkicks




Rear Axle


Dodge
Information Currently Unavailable





GM
Information Currently Unavailable


Parts listed are not necessarily manufactured by the original equipment manufacturer and any reference to the trademarks or part numbers of others are for cross reference informational purposes only.